Training
Contact
EHSTraining@ucf.edu
for any immediate assistance regarding online research safety courses.
Training
Training
Safety is No Accident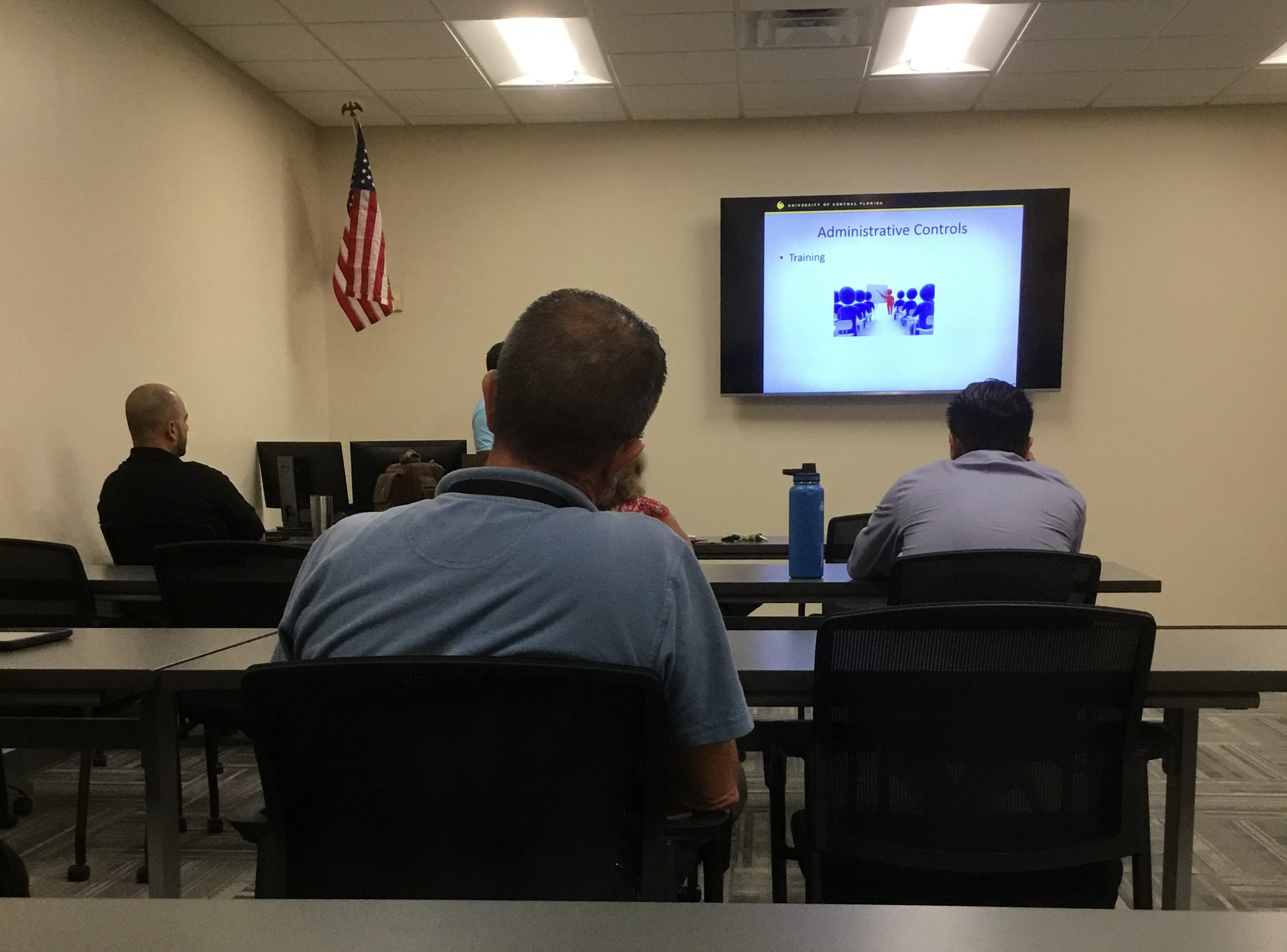 Environmental Health and Safety (EHS) is dedicated to reducing injuries and accidents, reducing the university's environmental impact, and ensuring compliance through high-quality training. EHS offers courses in areas such as workplace safety, fire safety, and research safety.
EHS provides a wide variety of lecture-based and online courses. The calendar is regularly updated with the current course offerings.
To register for lecture-based courses visit the EHSA Course Registration page.
For a list of all the Research Safety online courses see the Online Courses Offered page.
Training sessions are scheduled on a month to month basis. Session days and times may vary based on instructor and location availability.
To find out when practical sessions or other lecture courses are being offered, visit our Training Calendar.
On-Campus Users:
In order to register, you need to have a connection to UCF_WPA2 or be on a wired connection (Ethernet) other than UCF Student Housing. Click here for instructions on how to connect to UCF_WPA2.
Off-Campus Users:
If you have been given permission, you can access to the UCF Virtual Private Network (VPN) to have access to EHSA. Click here for instructions about using the VPN.
Please note: Enrollment in UCF Webcourses may take up to 2 business days.
Workplace Safety Training Matrix
---
EHSA Registration
***Seating is limited, please do not register for multiple sessions.***
Follow the steps or click below for a visual tutorial on how to register in EHSA.
EHSA Registration and Safety Training Enrollment Tutorial
If you have not previously taken any courses through EHS you will need to enter your information to create your record. Make sure you have a valid UCF-issued email in order to receive course notifications and training reminders.
Steps to Register:
Make sure you are on a campus network.
Click the EHSA log-In button.
Click the line "To Register for Safety Classes, Click Here".
Enter your UCF ID # (PID without the letter) or your name (first and last) and click Submit.
Find yourself on the list and click on "Select."
If you do not find yourself on the list click on "No Matching Records Found, I'm a New Worker" and enter the information below and click Submit.
Name
UCF ID# (which is the PID no letter)
NID
Email (UCF preferred)
Department of lab you are working in
Supervisor or PI of lab
Click "Select from all Available Courses".
Select the course you wish to register for. ***Seating is limited, please do not register for multiple sessions.***
Course information will show up. Click the button "Click to register for this class". (Please note: The system may take up to 24 hours to record your completion of the online courses, so you may get an error when trying to register. If this happens, please wait and try again later.)
A pop-up will appear that you have registered for the course. Read the course requirements and click OK.
Make a note of the time, location, and status of the course.
When you are finished click "Log off" in the upper right corner of the page.
The courses can be accessed through UCF Webcourses, not in EHSA. You will be enrolled in the courses within 24-48 hours. 
For any questions regarding the training please contact Jimmy.Stewart@ucf.edu or (407) 823-1470.
If you have any problems registering in EHSA please contact EHSTraining@ucf.edu.